Functional Masterbatch
Color Masterbatch
Filler Masterbatch
Bio Material
Inorganic Filler Powder
CaCO3 Filler (powder):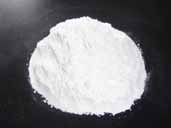 Application:
Widely used in plastics such as PVC, PE, PP, PS and in rubbers such as polysulfide, polybutylbenzene, polybutyronitrile. Also good for oil soluble paint.
Features:
Modify physical property of plastic and rubber, improve processibility in pressure moulding, injection moulding, rolling, jetting and extrusion, substitute synthetic resin, which is much more expensive than CaCO3 .
In respect of paint and coating, resist sun light and high temperature, do not change color under UV (ultra violet), keep original luster and hue intact for long time, resisting acid, alkali, water and pollutant, anti-aging, endure abrasion and steam, stable chemical property, flame-retardant.
Precipitated calcium carbonate (PCC), ground calcium carbonate (GCC), preponderance of dry ground calcium carbonate, improve the mechanical properties and to reduce shining of SBS rubber, surface modifications.
Thermal stability. Low melt viscocity. Dry blending is allowed. Slipping and anti blocking.
Less absorption of plasticizer. Excellent property of insulation. Less absorption of dyestuff, clear in color. Good dispersion, flowing and processibility.
Remark:
Coated CaCO3 with degree of activity 95-98%, which is more compatible with organic materials such as synthetic resin.
Coated calcium carbonate (active calcium carbonate) enhances hydrophobic property.
Non-metal ore mineral filler includes inorganic talc filler,calcium carbonate filler,barium sulphate filler,sodium sulphate filler,magnesium silicate,CaCO3,MgSiO3,BaSO4,NaSO4,calcite,marble,ground calcium carbonate GCC,precipitated CaCO3 PCC,coated CaCO3 filler,active talcum filler.
CaCO3 Uncoated
Description/Items

Unit

Serie

01

02

03

04

05

06

Specific Surface Area

cm2/g

26,000

21,000

18,000

16,000

14,500

8,500

Mesh

13,000

11,000

7,000

4,000

3,000

1,100

Average Particle Size

Micrometer

0.90

1.26

1.60

2.07

3.08

9.17

True Specific Gravity

g/cm3

2.7

2.7

2.7

2.7

2.7

2.7

Bulk Density Tapped

g/cm3

0.63

0.70

0.83

0.91

1.12

1.38

Moisture

%

0.30Max

0.30Max

0.30Max

0.30Max

0.30Max

0.30Max

Oil Absorption Value

c.c/100g

38

35

32.5

31

27.5

23

Water Absorption Value

c.c/100g

61

57

54

51

48

39

DOP Absorption Value

c.c/100g

60

57

55

53.5

48

39.5

Residue On 325 Mesh

%

0

0

0

0

0.005

0.1

PH Value

9±0.5

9±0.5

9±0.5

9±0.5

9±0.5

9±0.5

Sediment Volume

30min(c.c)

77

71

66

50

48

20.5

60min(c.c)

72

67

45.5

33

30

16

Whiteness

98

98

98

97

97

97

Net Weight Per Kraft Paper Bag

Kg

25

25

25

25

25

25
| | | |
| --- | --- | --- |
| Description | Unit | Index |
| CaCO3 | % | >97 |
| SiO2 | % | <0.1 |
| Fe2O3 | % | <0.01 |
| Al2O3 | % | <0.01 |
| MgO | % | <0.1 |
| CaO | | |
| Insolubility in hydrochloric acid | % | <0.1 |
| Burnt loss ( 900¡æ) | % | 43.8 |